Flash
20 lakh in home quarantine in Maharashtra, govt to shift them to Covid centres in phases | Mumbai News
[ad_1]
MUMBAI: As the second wave of Covid shows signs of ebbing in the state, except in about 10 districts, about 20 lakh people are isolating at home, 15,000 are in institutional quarantine and only 26% of hospital beds are occupied by patients, information compiled by the CMO and the health department shows.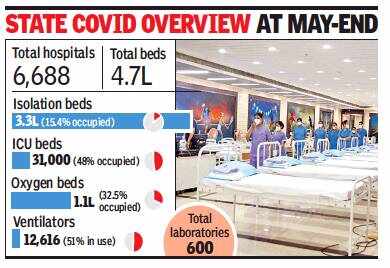 "We have a network of 6,688 hospitals and 600 state of the art laboratories. In oxygen production too, Maharashtra is almost self-sufficient. After the first wave of Covid, in the last one year, we successfully upgraded our infrastructure and, as a result, now no patient will suffer for want of ICU bed, oxygen or ventilator," said medical education director T P Lahane.
A senior official said in view of the stringent measures taken by the government, only a fraction of the 2.8 lakh active cases have had to be admitted to hospital.
But the battle against the virus is far from over, and the health department plans to move most of the people in home quarantine to Covid care centres in the vicinity in phases. Small centres with basic facilities will be set up in each village too.
Interestingly, with the state reporting 2.8 lakh active cases, a vast majority of the 20 lakh people isolating at home would be contacts of Covid patients or those who have travelled to the state from abroad or other states.
The major bulk (12.6L) are in Mumbai, Thane, Pune, Satara, Nagpur and Kolhapur, while there's none in home quarantined in Hingoli district. Wardha, Gondia, Nandurbar and Bhandara have fewer than 5,000 but the number jumps 10 fold in Palghar, Solapur, Sangli, Ahmadnagar and Jalgaon.
The government has recently stepped back from a decision of compulsory institutional quarantine, largely because of infrastructure and manpower shortage as well as hesitancy among the populace. If home quarantine is to be done away with, the government will have to create at least 25,000 to 3 lakh beds in each district and provide enough paramedical staff to manage them.


[ad_2]
Source link