Cities
Bengal to keep 60% Covid beds for women ahead of 3rd wave | Kolkata News
[ad_1]
KOLKATA: The
Bengal
government is attempting to reverse the gender ratio at the 26,000
Covid
beds in government and private facilities in its disposal — by allotting more beds to
women
than men — in an attempt to be prepared for a possible
third wave
of the pandemic in which more
children
(and, consequently, more women) are likely to be affected.
The gender break-up for bed availability is now around 60:40 in favour of males, state director of health services,
Ajay Chakraborty
, told TOI. "We plan to reverse this, reducing the male beds and increasing the female ones until the male-female bed ratio is 40:60," he said, adding, "Based on current data, in most cases, this new Covid variant (Delta) is affecting all members of the family. So, if children are affected, so will be their mothers in most cases. We plan to keep them together. For the few cases, when the mother is negative, or may have recovered early, we are consulting experts on precautions she should take."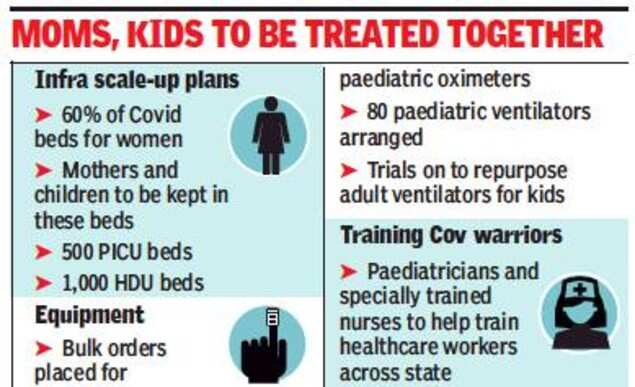 This would be part of the state's attempts to augment infrastructure, equipment and human resources before a September deadline to battle a potential third wave.
"Based on worldwide data, especially Canada, it is being predicted that there would be a two-fold spike in paediatric Covid infections in the third wave, compared with the second wave," Chakraborty said.
Ajay Chakraborty, director of health services, said: "Hospital admission rates for children, compared with adults, is a lot less. During the second wave (in Bengal), when Covid cases had spiked to nearly 20,000 daily, paediatric Covid patient admissions were around 200 daily. So, assuming this will peak to 500 daily cases, we have to keep aside 5% critical care units and 10% high dependency units (HDUs). But we are targeting for a substantially larger number. We plan to scale up paediatric intensive care units (PICU) to 500 beds and HDUs to 1,000. But, most importantly, for infants who are not even a month old, separate Covid beds will be kept in the 68 special newborn care units (SNCU) and newborn intensive care units (NICU) across Bengal,"
The senior health official, however, said the biggest challenge was that intensive paediatric treatment facilities were very Kolkata-centric. "So, we target to set up self-sufficient paediatric units in the districts. Six new PICUs are being set up in Jalpaiguri, Cooch Behar, North Dinajpur, Purulia, Rampurhat and Diamond Harbour," he added.
The Bengal government, he said, was bulk-ordering paediatric oximeters. "Adult oximeters don't work for kids because they have smaller fingers. So, we are acquiring paediatric oximeters. These would be dispatched state-wide. We already have 80 paediatric ventilators, and we are trying to attempt to find out whether adult ventilators can be recalibrated for use in kids who are above two years old. This is being studied at Medical College Hospital," Chakraborty said. The state will also send out paediatricians and SNCU and NICU nurses to health facilities to train healthcare workers.


[ad_2]
Source link