Cities
BMC vaccination centres on cyclone holiday today | Mumbai News
[ad_1]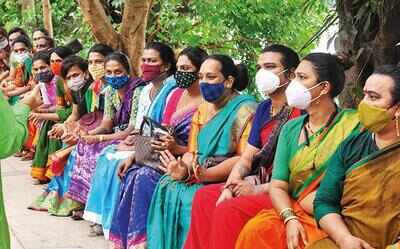 Transgender people wait for food from a Jain group in Thane on Sunday
MUMBAI: In response to the warning about cyclone Tauktae, the BMC on Sunday cancelled the vaccination drive for Monday at all public centres. The three-day walk-in-only drive of the BMC will now commence on Tuesday and continue till Thursday. Senior citizens and differently-abled persons may walk in for the first dose of Covishield on these three days.
On Friday and Saturday, vaccination will be with online appointments only.
Owing to the new directions from the Centre to increase the gap between two doses of Covishield to 12 to 16 weeks, municipal commissioner Iqbal Singh Chahal said only healthcare and frontline workers now qualify for the second dose of Covishield since their vaccination had started on January 16 and February 3, respectively. People from these two categories may even take the walk-in route for their second dose, said additional municipal commissioner Suresh Kakani.
For people above 60 years of age and people between 45 and 59 years of age with co-morbidities, vaccination had started on March 1, so the earliest they qualify for the second dose is after Sunday, May 23.
The Centre issued a new guideline on Sunday that if any Covishield recipient had already booked an appointment for the second dose, he should be allowed to take the vaccine even if the period of 84 days has not been completed. "It is reiterated that the online appointments booked for the second dose of Covishield prior to the change (in dosage interval), must be honoured … [T]hey must not be turned away," a letter issued by Vikas Sheel, additional chief secretary, Union health ministry, said.
More than 21 lakh people over 45 years of age in the city, which is over 65% of this population, have taken at least one dose of the vaccine. Fewer than 20% have taken the second dose.
Since vaccination has been suspended in the city since Saturday, municipal officials said no appointments were given out. Private centres, if they have pre-bookings, need to adhere to it.
State officials said that districts were informed that bookings made for the second dose had to be honoured.
Across the state, vaccination numbers continued to lag. Only 1,92,742 people were vaccinated on Saturday, including 1,59,808 people above 45 years of age, 7,752 in the age bracket of 18-44, and 20,727 frontline workers.
The state has vaccinated 1.99 crore people since the drive started in January. Of these, 1.51 crore are people above 45 years of age, 23 lakh frontliners, 18.47 lakh healthcare workers and 6.48 lakh people in the 18-44 age group.
State officials said they had six lakh doses. The city has around 70,000 doses, which will be administered at existing vaccination centres as well as at the ones started at the community level. A municipal official said at least one vaccination centre had been set up in each electoral ward to vaccinate a minimum of 100 people.
FacebookTwitterLinkedinEMail
[ad_2]
Source link