Cities
Chennai: Medicos to monitor home isolation patients | Chennai News
[ad_1]
CHENNAI: From tomorrow, Covid-19 patients in home isolation in the city will receive calls from final year MBBS students who will monitor their health and also help them in case of any worsening symptoms.
Greater Chennai Corporation (GCC) has hired around 135 such students at a monthly pay of ₹40,000 for three months to sit in a zonal control room where they will be assigned patients to monitor through phone calls.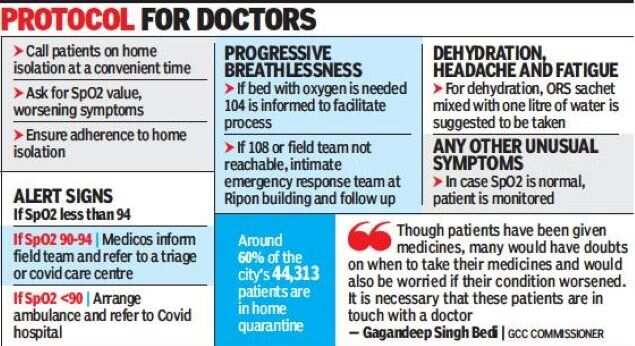 At a introductory meeting on Friday, these doctors were also told that their help would be needed in field work, if necessary. GCC is expected to hire around 300 such doctors.
GCC commissioner Gagandeep Singh Bedi said though patients have been given medicines, many would have doubts on when to take their medicines and would also be worried if their condition worsened. "It is necessary that these patients are in touch with a doctor," he said.
Around 60% of the city's 44,313 patients are in home quarantine. Also there were other issues pertaining to a home isolation patient such as the availability of yellow bags given by GCC to collect waste from Covid-19 patients and whether volunteers were helping out withprocurement of essentials.
As per a protocol sheet prepared by GCC, these doctors will be calling patients at least once a day and take details about their oxygen saturation, symptoms and adherence to home isolation norms.
In case their oxygen levels are below 94 and they show breathlessness or other symptoms, they would co-ordinate with the zonal health officer and send the patient to a covid care centre (CCC), triage centre or a hospital. It would also involve co-ordinating with the state war room (104) for an ambulance.
GCC has already started a service where triaging services for patients less than 60 years of age is done at home, Bedi said.
"In some cases, the family might be living in just one room and hence the non-infected family also carries the risk of contracting it. So we advise them to stay in a CCC. We have around 3,500 beds available in CCCs and we can augment it to 10,000," Bedi said.
Oxygen beds in the city were also being increased and 50 more were added in the Injambakkam Urban Community Health Centre (UCHC), but it was not functional yet as a generator has to be set up, Bedi said.
[ad_2]
Source link