Cities
Covid-19 cases at 66-day low in Mumbai, but total deaths in Maharashtra past 80,000 | Mumbai News
[ad_1]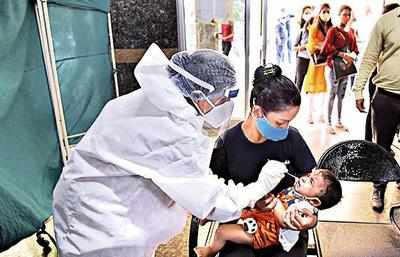 A healthcare worker takes a swab at Vashi's NMMC Hospital
MUMBAI: On a day Maharashtra reported its lowest daily detections in 46 days, the total Covid-19 death toll in the state crossed the 80,000 mark. Maharashtra reported 960 deaths on Saturday, the second highest fatalities reported so far, taking its total toll to 80,512.
It added 34,848 cases, lowest since March 30 (27,918). The state's total caseload rose to 53.4 lakh.
With fatalities continuing to surge, the state's journey from 70,000 to 80,000 deaths was completed in merely 13 days. The state had 70,284 deaths on May 2.
On Saturday, cases in Mumbai dropped to a 66-day low of 1,450 – the lowest since 1,012 cases recorded on March 9, taking the city's overall tally to 6,86,295.
In a positive sign, the city's positivity rate dropped to 5.81% on Saturday. From a high of 20.8% on April 1, it had dropped to 9.9% on April 30. Civic chief Iqbal Singh Chahal, however, urged Mumbaikars to come out and get tested in higher numbers. "We urge more citizens to come forward for testing. The higher the testing, the sooner we can flush out the virus," he told TOI. On Saturday, 24,900 tests were carried out. A month ago, Mumbai had hit a high of over 56,000 tests.
Another worrying aspect has been the deaths. On Saturday, the city recorded 62 deaths, taking overall mortality numbers to 14,164. Doctors believe the numbers are likely to stay above 50 for the rest of the month. Deaths are seen in two categories now, said Dr Rahul Pandit, a member of the task force. "One in a group of patients who are getting admitting and succumbing with 24-72 hours. The second group is those who are dying after 14-21 days of hospitalisation," he said. Given that the city's ICUs continue to be 90% occupied, it is feared deaths would continue, he said. With daily discharges being higher than new detections, the state's active cases dipped below the 5 lakh mark on Saturday. It has 4.9 lakh active cases, of which 34,083 are in Mumbai.
State officials said smaller districts were adding higher deaths. Solapur district on Saturday added 91 deaths, of which 77 were from rural areas and 14 from the corporation area. Beed district added 35 deaths and Chandrapur district 51.
Dr Subhash Salunkhe, a technical advisor to the state, said cases in semi-urban and rural areas are driving the transmissions now. "These areas see a surge a month or two after cities, so they would take longer to settle down too," he said. Deaths would continue to be high in the state much after that, he added.
FacebookTwitterLinkedinEMail
[ad_2]
Source link