Cities
Delhi unlocks all shops, lets restaurants open with 50% seating | Delhi News
[ad_1]
NEW DELHI: All standalone shops,
markets
and malls would be allowed to open between 10am and 8pm from Monday and restaurants would be able to open their doors again after 55 days with 50% seating capacity as Delhi chief minister Arvind
Kejriwal
announced further relaxations on Sunday as part of the gradual
unlock
process in the city.
With Covid-19 cases on the wane, weekly markets too have been allowed after eight weeks but only one market will open in one zone on a day, the CM said. Educational institutions, cinemas, gyms,
spas
, banquet halls, public parks and gardens, amusement parks, sports complexes, swimming pools etc., however, have not been allowed to open in an order issued by the
Delhi Disaster Management Authority
(DDMA) on Sunday.
Kejriwal warned against crowding at markets and said everybody must wear masks.
Kejriwal appeals to all to follow
Covid
norms
Coronavirus cases have reduced significantly and right now the only concern is to bring back the economy on track on one hand, and in case a third wave comes about, then the preparations for that are in full swing," CM Kejriwal said at a digital press briefing.
"Several arrangements are being made for the third wave. But I know many people whose lives have become difficult because of the loss of means of livelihood. We understand this and slowly and steadily, economic activities are being opened up," he said.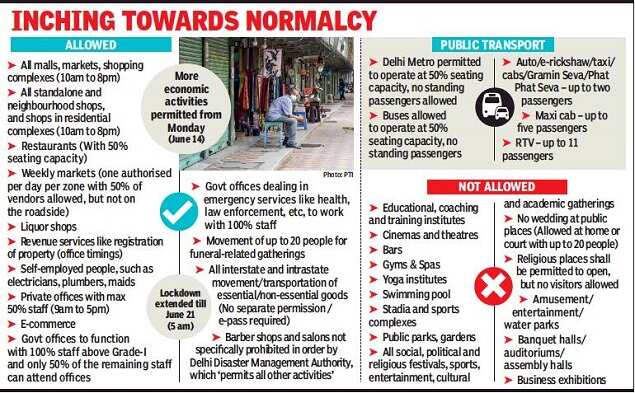 "Last week, all markets, market complexes and malls were functioning on an oddeven basis, but now can all be opened up fully but only from 10am to 8pm. Restaurants will function on 50% seating capacity," he said, adding that the situation at markets and restaurants will be observed for a week and if Covid-19 cases do not increase, the relaxation would continue but if cases increase, strict measures will be imposed.
Kejriwal appealed to all market associations and shopkeepers to ensure there is no overcrowding and social distancing is maintained. "They should also keep masks inside their shops so that if someone is not wearing a mask, then the shop can offer them," he said.
In the order, DDMA has directed that only one authorised weekly market, with up to 50% of the allowed vendors at normal time, would be allowed per day, per zone with compliance of standard operating procedures issued earlier. Also, no weekly market will be allowed to function on roadsides and can be only allowed to function at nearby grounds where all norms can be strictly implemented. DDMA has also instructed that random RT-PCR or Rapid Antigen Tests of vendors and customers should be carried out at weekly markets.
He said that weddings cannot be allowed in public places like in banquet halls, hotels or marriage halls and can take place only at home or at the court, with not more than 20 people in attendance. Similarly, not more than 20 people can be allowed in funerals and at last rights.
Delhi Metro and buses would continue to operate with 50 % seating capacity and no standing passengers and up to two passengers are allowed in para-transit vehicles like auto and e-rickshaws, taxis, cabs phat-phat sewa, etc.
Kejriwal said that "all activities" are allowed from 5am on Monday, except activities that are completely prohibited and others that are allowed with restrictions. He said that all educational institutions like schools, colleges, coaching institutions and no social, political, sports, academic, cultural or religious festival-related gatherings will be allowed.
The prohibited list includes swimming pools, stadiums, sports complex, cinema theatre, multiplexes, amusement parks, water parks, banquet halls, assembly halls, auditoriums etc., apart from business to business exhibitions, spas, gymnasiums, yoga institutes, public parks and gardens.
"Religious places will be opened up but visitors will not be allowed. I hope Covid continue to decline rapidly so that slowly our lives can get back on track," he added.


[ad_2]
Source link