Cities
In 25 days, Covid cases dip from 28,000 to 6,430, but deaths still more than 300 | Delhi News
[ad_1]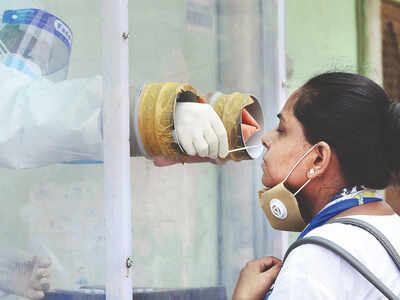 Representative image
NEW DELHI: Covid cases are on the wane in Delhi. From 28,395 cases reported on April 20 to 6,430 cases on Saturday, the capital has witnessed a major turnaround over the past 25 days. The number of deaths, however, continues to remain high. In the last 24 hours, 337 fatalities have been recorded.
The positivity rate has declined to about 11% from 36% on April 22. The sudden dip in the Covid cases and positivity rate has brought a major relief to Delhiites.
According to Saturday's health bulletin, Delhi reported 6,430 fresh Covid cases and the positivity dropped to 11.3%. A total of 56,811 Covid tests were conducted in the last 24 hours, which was one of the lowest in recent weeks. In all, 11,592 Covid patients recovered.
CM Arvind Kejriwal said that Covid cases were declining in Delhi slowly and steadily. "I hope it diminishes completely and does not rise again. However, we are not going to become negligent in any way. Yesterday, we prepared 500 additional ICU beds, and 500 similar beds were prepared four days ago. Within 15 days, our doctors, engineers and workers have prepared 1,000 ICU beds. They have set an example for the world. I salute them on behalf of the people of Delhi and thank them for their work," Kejriwal said.
The occupancy of Covid beds is also declining in the city. Currently, 16,795 out of 24,018 Covid beds are occupied and 7,223 beds are vacant. 42,484 Covid patients are under home isolation.
Dr Arun Gupta, president of Delhi Medical Council, said that the sudden fall in the number of Covid cases and positivity was expected following a surge in the positivity rate and the number of cases. Gupta, however, underlined that even after the steep fall, the number of Covid cases was still close to the third peak witnessed in the second week of November 2020, when highest single-day Covid cases had touched 8,500.
"Factors behind the steep fall include a large number of people already being infected in Delhi and more and more people taking Covid-appropriate behaviour seriously due to the alarming situation," said Gupta, adding that let-up in following Covid-appropriate behaviour may cause another spike.
Delhi currently has 66,295 active Covid cases. So far, the capital has reported 13,87,411 positive cases, while 12,99,872 people have recovered, including a large number of senior citizens.
FacebookTwitterLinkedinEMail
[ad_2]
Source link