Cities
Kolkata: 45 rounds of gunfire ringing in its ears, New Town complex struggles with trauma | Kolkata News
[ad_1]
KOLKATA: Residents staying indoors, uniformed cops making rounds outside buildings, guardrails restricting vehicular and pedestrian movement being put up in places and security guards checking every car and noting down registration numbers — this was the scene at Shukhobrishti complex in
New Town
that turned into a fortress on Thursday, a day after the daylight encounter of two gangsters at a flat. Residents even peeped out of their balcony and window to take a look at what was happening outside but they didn't step out.
"There is a strange sense of fear and disbelief among all of us. What we had witnessed yesterday was something we have never seen before and the situation continues to remain tense even today. Children didn't come out to play, morning walkers avoided the routine walks and everything was different. But it's good in a sense that finally the security has been beefed up in our complex which has been our long-standing demand," said Arna Sikdar, a resident of C Block of the complex.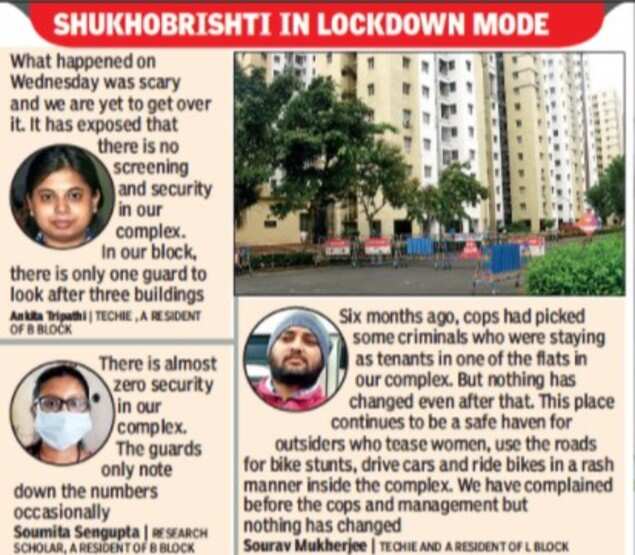 Home to over 35,000 people, the New Town complex is spread over 400 acres with 12,000 flats and many more still under construction. However, what makes the complex different from other complexes is the sheer number of tenants — more than 70% of the total residents — of whom, the owners claim, they have little clarity and information.
"Most of the residents here are tenants about whom neither we nor the maintenance office has clear information. The situation also got exposed on Wednesday when it was found that somebody else was living at a flat rented by someone else. And this is nothing uncommon here but the authorities do nothing about it," said Durba Bhattacharya, who owns a 2BHK flat at the complex.
Bhattacharya and others even staged a demonstration outside the office of the Bengal Shapoorji Housing Development, demanding better security, installation of more CCTV cameras and restriction on outsiders.
The New Town incident also points out how dreaded criminals from other states no longer opt for shady joints or ghettos as hideouts and opt for high-rises that have residents from different states of India, who barely interact with each other.
In fact, criminals staying as tenants is nothing new at Shukhobrishti complex, according to some residents. "Six months ago, cops had picked some criminals who were staying as tenants in one of the flats in our complex. But nothing has changed even after that. This place continues to be a safe haven for outsiders who tease women, use the wide roads for bike stunts and drive cars in a rash manner inside the complex. We have complained before the cops and the local management but nothing has changed," said Sourav Mukherjee, the secretary of an apartment owners' platform at the complex.
Mukherjee said incidents of theft are also pretty common inside the complex with frequent theft of motorbikes and cycles being reported. Residents' association members even met on Thursday to discuss immediate steps needed to check the situation.
"We are trying to engage an app company that would keep a data of whoever entering or leaving the complex and would also send an alert to the residents about the visitors approaching their flat. We are even trying to increase the number of CCTV cameras," said Mukherjee.


[ad_2]
Source link