Cities
Kolkata: Anxiety gives way to relief at high-rises | Kolkata News
KOLKATA: From a dark windy morning that threatened to intensify into an
ominous cyclone
to a lighter sky with the sun peeking out, it was a day of extremes that started with fear and anxiety and ended with smiles and relief.
Kolkatans
, who are still coming to terms with the
Amphan
effect, were happy to know that
Yaas
chose to skip the city.
Residents of high-rises in the city were the happiest of the lot. Many had suffered damages last time and had protected their homes with additional typhoon locks, masking tape, tarpaulin sheets and sealed every possible crack to prevent water from coming in. All furniture, potted plants and clothes were removed from the balconies since last time, during Amphan, everything had landed on cars parked on the ground floor.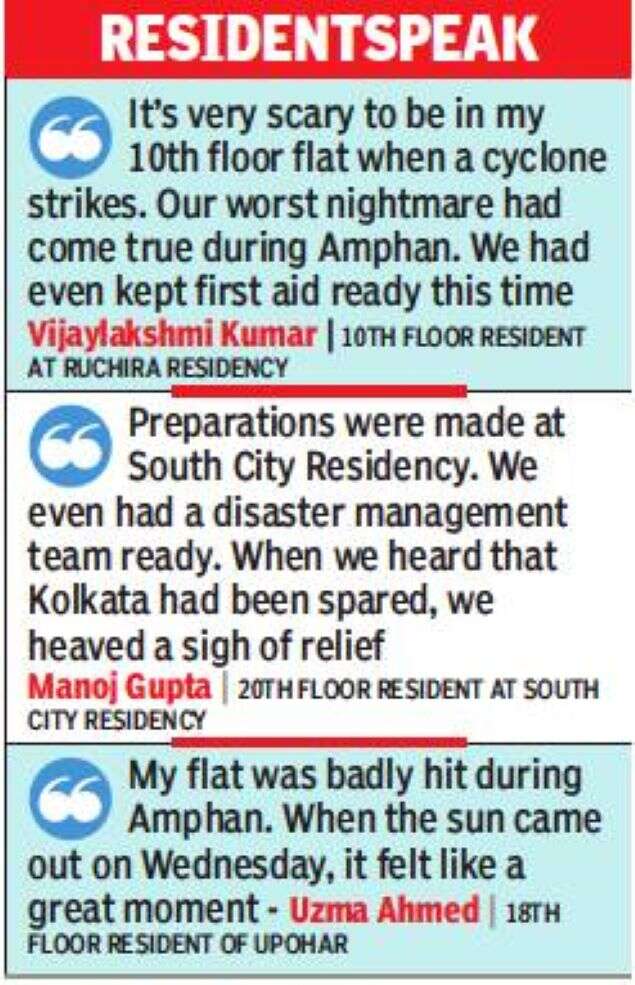 "On the 45th floor it seemed as if the cyclone was coming straight at you. It started last evening as the intensity of the howling winds started increasing with the hour. I filmed and posted it on the social media and started getting anxious calls from all over, but finally Yaas skipped the city," said S Ramani Iyer.
Most people kept their balconies and windows shut and kept monitoring the different websites as Yaas inched towards a landfall. "My 18th floor balcony was damaged last Amphan and I completely covered it with tarpaulin sheet this time. . We literally didn't sleep last night. When the sky started clearing up, I couldn't believe our luck," said Uzma Ahmed, a resident of Upohar.
With kids at home, his 35th floor home didn't feel safe to Suresh Tolani as he scanned every bit of news that came in."We turned off all heavy electrical equipment and remained in one room. The sound of the wind outside was scary. When we realised that we have been saved this time, we didn't believe it for sometime," he said. Some like Indranil Chowdhury of Silver Spring kept on checking different sites, till he was absolutely sure that Kolkata had been spared. He was instrumental in securing the trees of the complex this time.
Vaccination camp at Udita that started on Tuesday was suspended on Wednesday.It will resume on Thursday, confirmed president D Nath. At Singhi Park Apartments, many cars were damaged during Amphan. "The apartment has 400 cars. We parked some in basement and the rest away from trees," said resident Akash Bhatia.