Cities
Maharashtra CM & team meet PM, seek to put Maratha quota onus on Centre | Mumbai News
MUMBAI: Against the backdrop of strained ties between the Centre and the
MVA government
, a delegation of the
Maha Vikas Aghadi
government led by
CM Uddhav Thackeray
called on PM Narendra Modi in Delhi on Tuesday to push for demands, including seeking a constitutional amendment to expand
reservations
beyond the 50% ceiling to accommodate the
Maratha quota
. In doing so, Thackeray sought to push the onus for providing reservations beyond the 50% limit on to the Centre.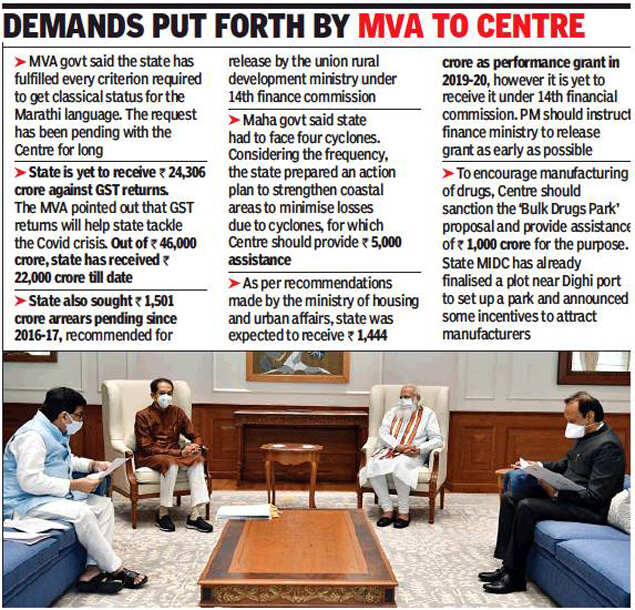 Thackeray also had a personal meeting with PM Modi, which lasted around 30 minutes, and created a buzz. On his one-on-one meet with the PM, Thackeray said, "I did not go to meet Nawaz Sharif (former PM of Pakistan). What's wrong if I met the prime minister?"
This was the second Modi-Thackeray meet after the latter broke ties with the BJP and became chief minister one-and-a-half year ago.
CM thanks PM for free vax, says all issues will be sorted
On his one-on-one meet with PM Modi on Tuesday after the MVA delegation's meeting, CM Uddhav Thackeray said, "There is nothing to hide, and I will not. Although we are not together politically today, our relations have not been broken. If I told my alliance partners that I wish to meet him, what's wrong with it?"
The MVA government is struggling with the impact of court orders cancelling various reservations for the Maratha, OBC, SC and ST communities. Last month, the apex court cancelled reservation in jobs and education granted to the Maratha community and also struck down 27% reservation for OBCs in local body polls. The Bombay high court, meanwhile, refused to stay a government order cancelling the 33% 'reservation in promotion' quota for SCs and STs.
The delegation accompanying Thackeray included deputy chief minister Ajit Pawar from the NCP and PWD minister Ashok Chavan from the Congress, state chief secretary Sitaram Kunte and Shiv Sena secretary Milind Narvekar.
The delegation had a 90-minute meeting with Modi to urge him to consider legal and legislative solutions to the quota issue. Thackeray requested Modi to seek an amendment in the Constitution to relax the 50% ceiling on quotas in order to restore the Maratha quota. He asked for constitutional protection to be given to the OBC quota in local body polls since it is statutory and not constitutional. He also raised the 'reservation in promotion' of SC and STs issue and appealed that the Centre request the SC to dispose of the case soon.
Thackeray said they had a 'positive and satisfactory' discussion. "We all are satisfied with the meeting, and I believe the issues will get sorted out soon," he said.
Thackeray applauded the Centre's decision to provide free vaccination to all 18-plus citizens and thanked PM Modi. "Though we were prepared for the vaccination of 18-plus citizens, many hurdles erupted in the recent past. We hope now that all states and the country will be vaccinated. Every citizen has a right to get a free vaccine and to get protection from Covid-19," Thackeray said.
Meanwhile, ex-CM Devendra Fadnavis said he was not aware if Thackeray had met PM Modi separately. "Though I'm not sure if such a one-onone meeting took place, it is not surprising even if we assume a meeting happened," he said. Fadnavis said when he was CM, the PM used to discuss various issues with him separately.