Flash
Mumbai: Covid deaths study shows multi-organ damage, clots | Mumbai News
[ad_1]
MUMBAI: During the first wave in Mumbai in 2020, when little was known about Covid -19, doctors in state-run JJ group of hospitals carried out 51 autopsies on victims using minimally invasive techniques instead of cutting open bodies to understand how the SARS2 virus affected various organs. On Wednesday, their findings were published in an indexed medical journal, 'Surgical and Experimental Pathology'.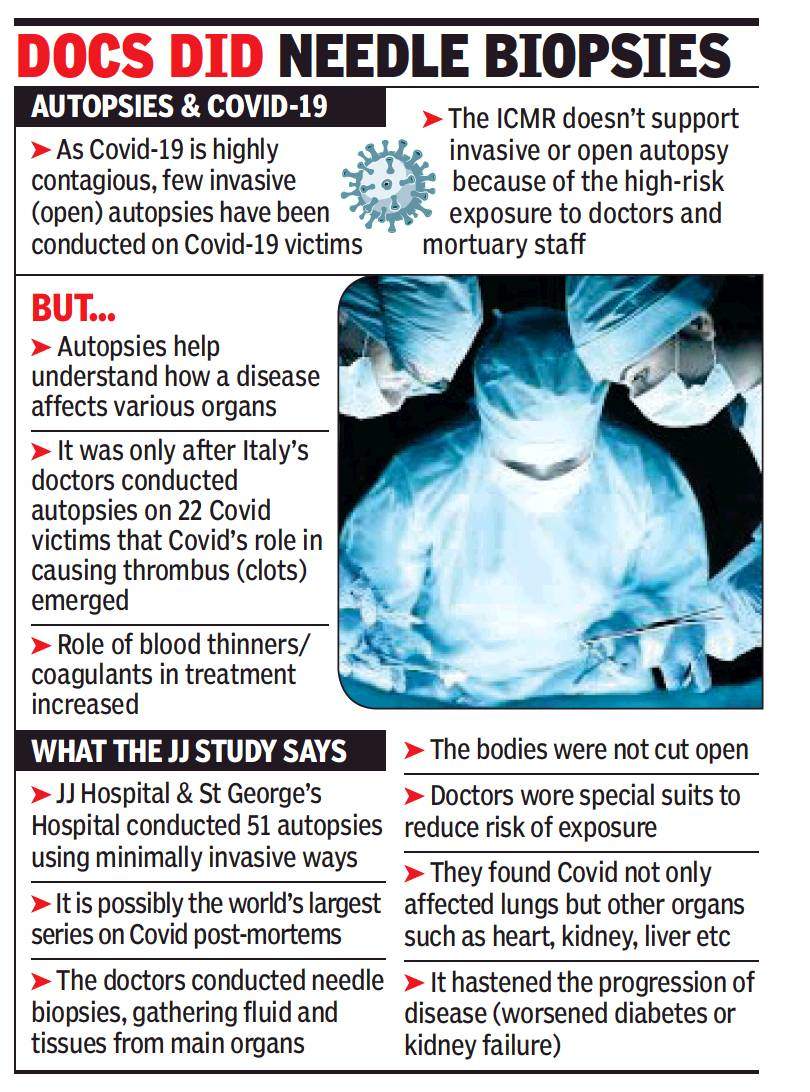 The study establishes that minimally invasive methods are as effective as open methods to find out the cause of deaths, and showed clots and inflammation in various organs other than the lungs.
Of the 51 victims (29 men and 22 women), 43 patients were over 40 years of age and 44 needed ventilator support. Most of them had comorbid conditions such as diabetes, hypertension and chronic kidney disease. In 90% (44) of the patients, the study team found lung damage, and evidence of heart muscles being affected by the virus in 39 patients.
Covid accelerates disease progression, says study
Doctors in JJ group of hospitals carried out 51 autopsies on Covid-19 victims to understand how the SARS2 virus affected various organs. The virus affected the kidneys of 24 victims, while 29 showed liver changes. "Our series of minimally invasive autopsies on Covid-19 patients is the largest in the world so far," said the study's main author, Dr Ajay Bhandarwar, head of JJ Hospital's general surgery department.
When Dr Bhandarwar, along with pathology head Dr Sanjay Bijwe and radiology head Dr Shilpa Domkundwar, started the study in August 2020, only doctors in Italy had carried out similar autopsies and announced that Covid-19 triggers clotting in blood vessels that leads to death. A few autopsies have been done in teaching hospitals in Bhopal, Ahmedabad and New Delhi (the Indian Council for Medical Research advises against open autopsies of Covid victims due to the higher risk).
"The pathological involvement of multiple organs on microscopic analysis supports our finding that Covid-19 infection is a multi-organ process that involves the lung, kidneys, liver, heart and spleen, and may, in fact, produce pathological changes in other organ systems which were not examined within our study," said Dr Bijwe.
The team carried out the autopsies in St George's Hospital, which was a Covid hospital, while the main JJ Hospital in Byculla was a non-Covid hospital. "Within two hours of a death occurring, we had to contact the victim's family and seek permission for the autopsy," said one of the authors, Dr Nikhil Dhimole.
While the families of victims were initially hesitant, the fact that the body wouldn't be cut open helped change the minds of 51 families. The autopsy was carried out in a side room of the Covid ward, with doctors from the radiology and surgery departments collecting tissues from various organs using biopsy needles under ultrasound guidance.
More important, the study found Covid-19 accelerated disease progression. In four patients who were recently diagnosed with a kidney problem, their autopsies found the Covid-19 infection had worsened their kidney functions.
Incidentally, when the study was being carried out between August and November 2020, 38 doctors from the general surgery department were affected by Covid-19. "There is no way to link the autopsies to our contracting the disease as we would work in Covid wards for long hours every day," said a doctor.


[ad_2]
Source link