Flash
No deaths from six seasonal maladies in 6 months, says BMC | Mumbai News
[ad_1]
MUMBAI: No deaths due to common seasonal ailments such as
malaria
, leptospirosis, dengue or H1N1 have been recorded in the first six months of the year in the city.
Mumbai has seen a significant drop in deaths as well as cases of monsoon-related diseases since the pandemic struck, but doctors caution a decline in diagnosis or reporting could be responsible.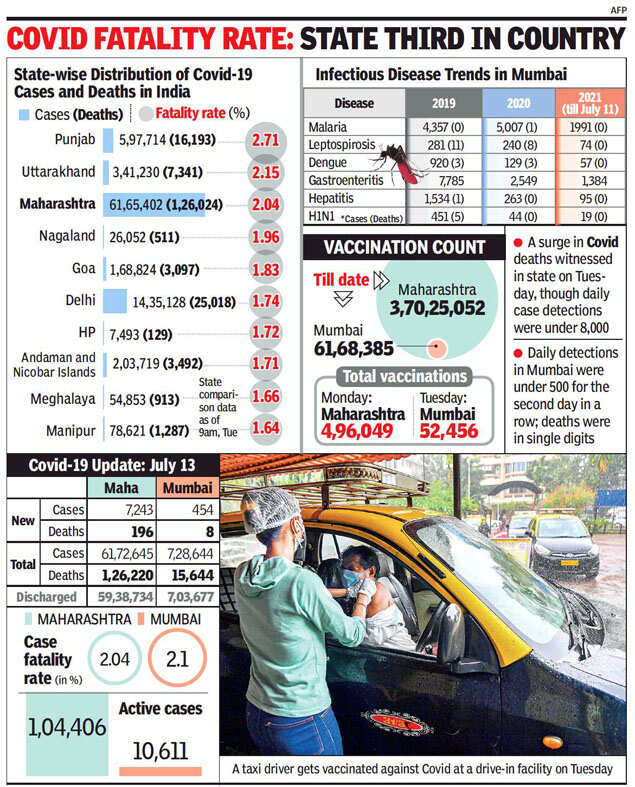 According to data released by the BMC on Tuesday, not a single death has been attributed to malaria, leptospirosis, dengue, hepatitis, gastroenteritis and H1N1 this year till July 11 (see box). In most of these diseases, deaths are largely recorded between June and September.
In 2020, a remarkable decline in monsoon diseases was noted, barring malaria. A stringent lockdown was stated as one of the reasons why the transmission of diseases was lesser. Malaria was the only disease that saw a rise and one death was reported last year. The city had not recorded a single malaria death in 2019, which was a first in a decade.
Interestingly, the other vector-borne disease, dengue, saw the sharpest drop as cases fell by nearly 86%. From 920 confirmed cases in 2019, it dropped to 129 in 2020. Both these years saw three dengue deaths each. Cases of gastroenteritis declined by 67% — from 7,785 in 2019 to 2,549 in 2020. A similar drop was seen in the incidence of hepatitis with cases plummeting to 263 last year from 1,534 in 2019. As coronavirus became the dominant virus, influenza H1N1 saw fewer detections. There were 451 cases and five deaths in 2019, which came down to 44 cases and zero deaths in 2020.
Infectious disease expert Dr Om Srivastava, who has been a part of the BMC's death audit committees, said it was unlikely deaths due to all other diseases would disappear. "The issue of underreporting must be looked at because doctors are definitely treating cases of malaria," he said. A civic official said wards in the island city have been reporting malaria cases, particularly from A, B and F-south wards.
Leptospirosis, too, has been a cause for worry this year. The civic official said a spurt is usually seen after days of heavy rainfall, which the city recorded in June. As many as 30 of the 74 leptospirosis cases have come in the last 40 days. A few deaths may be under review before they are attributed to any of these diseases, the official said.


[ad_2]
Source link