Flash
Relax curbs in parts of Tamil Nadu that have Covid under control, suggest experts | Chennai News
[ad_1]
Public health experts say there are no epidemiological reasons to extend the lockdown uniformly across the state to control the Covid-19 pandemic. Vaccination, people's behaviour and viral mutations need to be factored in while devising strategy, they say, stressing that lockdown isn't the only solution.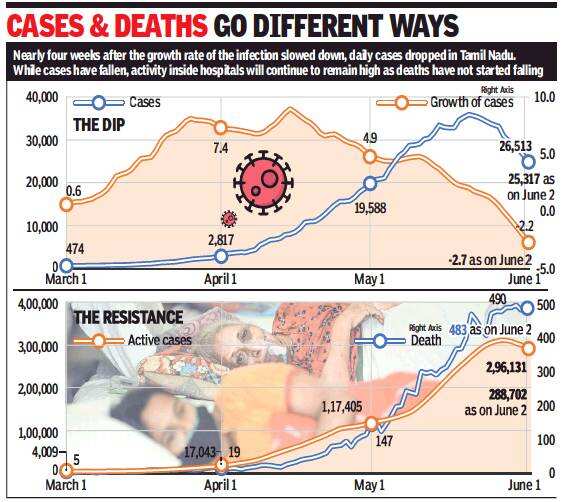 Consider this: A week after fresh cases began to fall from a peak of 36,184 cases on May 21, active cases in the state began to drop (from May 28) for the first time since March 6. Besides, say experts, deaths, which are nearly plateauing at around 480 a day, are likely to fall within a day or two.
"These graphs should help the state make a policy decision on lockdown," said Vellore-based senior virologist Dr T Jacob John. The growth rate of cases was at the peak at around 9% in April. After the fall in this "momentum peak", the state touched the "numerical peak" of cases on May 21. On that day, the growth rate fell to 2%. By the time, active cases began to record a fall, the growth rate was almost negative at -0.1%.
Dr John said there were no epidemiological reasons for extending the lockdown across the state. Several other public health experts agree.
On Wednesday, National Institute of Epidemiology deputy director Dr Prabhdeep Kaur, who is also a member of the state medical expert committee, had said the government lockdown should be relaxed in certain parts of the state such as the Chennai region where cases have drastically fallen. "The second wave started and peaked in different parts of the state at different times. Bed availability is also different in different districts. So, the same rules of lockdown cannot be extended to all districts," she said.
Activity is more inside hospitals, than in the community, said Dr John. "On an average there is a 12- to 14-day gap between fall in fresh cases and peaking of deaths. So, tier 2 cities and small towns must forecast mortality peaks, plan human resources, drugs and infrastructure," he said.
While officials worry about a drop in seropositivity – number of people with antibodies against the infection -from 32% in October 2020 to 23% in April this year, experts say it is expected. "We do not maintain high antibody levels to every pathogen we have ever encountered. If the memory response has been set up, we will be able to respond quickly when re-infected and mitigate the severity of disease," said Christian Medical College senior microbiologist Dr Gagandeep Kang.
Nevertheless, there is a large population that is still unprotected and hence the threat of a third wave remains. Factors such as vaccination, people's behaviour and viral mutations may influence another wave. Scientists say a close watch on genomic changes is essential.


[ad_2]
Source link