Cities
Tamil Nadu logs over 21,000 new cases | Chennai News
[ad_1]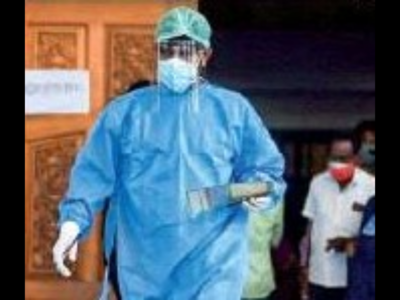 A health services provider comes out of a city hospital for a break
CHENNAI: Only four districts in the state – Perambur, Ariyalur, Pudukottai and Ramanathapuram – reported fewer than 100 cases on Tuesday, when the state reported 21,228 new cases and 144 deaths.
The growth of infection in each of these low incidence districts has been between 6% and 16% in the last one week. The overall case tally in the state touched 12.4 lakh and the number of people cured crossed 11 lakh, leaving 1.25 lakh on the active case registry. The cumulative toll has reached 14,612.
Since April 27, when the state added1,35,790 more cases, Perambalur – a district that has reported the least number of cases so far— added 236 new cases, of which 223 are active. In the last one week, the district has reported 9% growth in infections.
Ramanathapuram, with a case tally of 9,089, has seen the highest growth of 16% from 7,815 cases in seven days. Pudukottai saw a 7% jump by adding 869 cases to take the district tally to 14,232, while the 6% growth in Ariyalur pushed its case tally to 5,772. Ariyalur has 341 cases on the active registry – the lowest following Perambalur.
"There is an exponential growth in cases across the state," said director of public health Dr T S Selvavinayagam. "We should not give the virus anymore chances."
In the last one week the growth was highest in Krishnagiri (23%), Tirunelveli (21%), Thoothukudi (19%) and Karur (19%). The infection growth in hotspot Chennai, which added 39,959 new cases, is 12%. Health secretary J Radhakrishnan said the government has asked all districts to ramp up testing, isolate positive cases early. "That is the only way to prevent the spread right now," he said.
On Tuesday, Chennai reported 36 deaths, followed by15 in Salem, 12 in Tiruvallur and 11 in Vellore. Chennai also reported the highest number of new cases — 6,228 cases, followed by 1,608 in Chengalpet, 1,509 in Coimbatore and 1,152 cases in Tiruvallur.
FacebookTwitterLinkedinEMail
[ad_2]
Source link