Cities
Tamil Nadu: Winged visitor flies 6,000km for third year in a row to keep its date with Vedaranyam | Chennai News
[ad_1]
CHENNAI: A small bird with a wingspan of a little more than one foot has managed to make the nearly 6,000-km trip to Vedaranyam from the Siberian tundra every year for the past three years.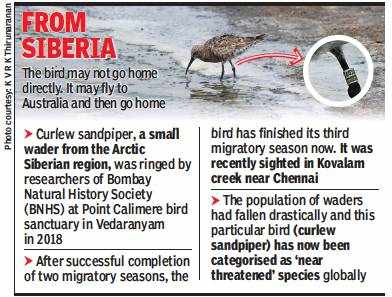 This curlew sandpiper (Calidris ferruginea) was ringed by researchers of the Bombay Natural History Society (BNHS) at the Point Calimere bird sanctuary in Vedaranyam in 2018. It was spotted this April-end at the Kovalam creek on the city's outskirts by K V R K Thirunaranan who sent a photograph to the BNHS.
"The BNHS authorities confirmed to me that the bird was ringed in 2018 by their deputy director S Balachandran, who is based at Vedaranyam,." Thirunaranan said.
The bird was on its way back home after wintering in Vedaranyam when it was sighted in Kovalam creek near Chennai, Balachandran said. This was its third migratory trip, he added.
Curlew sandpipers, which are waders, have been categorized as near- threatened species globally as their population has declined, Balachandran said.
During the 1980s, the BNHS used to ring thousands of these birds every year. At that time, the waders' population was good. "Many of them used to be caught by narikoravas, from whom the researchers have recovered the rings," Balachandran said.
"Now, the population of waders has come down mainly due to absence of mud flats in estuarine ecosystem across the globe. Many estuaries turn bone dry during summer, which will not allow the formation of mud flats. This is one of the major causes for the decline in waders' population, said Balachandran.
Ornithologists say that of late curlew sandpipers do not return home directly by instead fly to Australia and then go home, flying several thousand kilometers more.
However, the one that was sighted near Chennai could have come from Vedaranyam only.
[ad_2]
Source link