Cities
'Uneasy' choice for doctors as Kolkata hospitals prioritise treatment | Kolkata News
[ad_1]
KOLKATA: The triaging system now in place in
hospitals
is forcing
doctors
to make choices they did not think they would ever have to in their professional life.
Triaging refers to the practice of optimising scarce resources during times of emergencies and disasters. It prioritises patients' treatments by the severity of their condition or chances of recovery without treatment. In the current
pandemic
, there has been growing global agreement about triage in order to limit resource strain.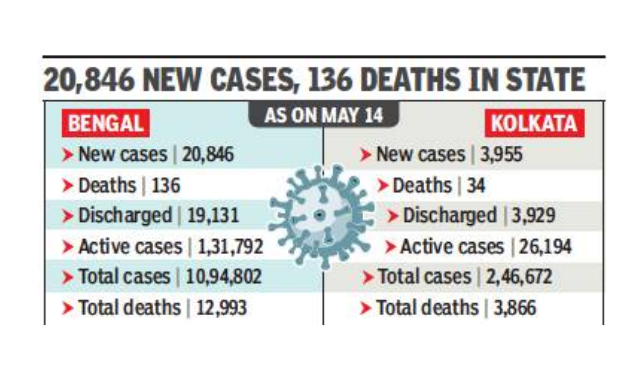 With Kolkata adding nearly 4,000 Covid-positive patients a day and hospitals running out of beds within hours of adding fresh ones, doctors say they are left with no choice but triage. Hospitals acknowledge the pressure to empty out beds is immense; so, the more critical patients are being taken in for treatment. What this means is that the borderline cases — patients who haven't recovered completely — are being discharged earlier than they ideally would have.
The family of an octogenarian admitted to a Covid facility was told, 48 hours after admission, that the patient was to be discharged. When they checked with doctors, they learnt the patient's oxygen-saturation level was still hovering between 82% and 84%. This is hardly a one-off case. "We are having to discharge some patients who we would have kept in hospital for two-three days," said a doctor at a government hospital. "We did not face this during the first wave."
Rahul Jain, internal medicine expert at Belle Vue Clinic, said "the bed crisis would become even more acute" if triaging was not done. It's necessary to not completely deny treatment to the more critical patients, he explained.
In another private hospital, a 39-year-old patient, who was recovering well in HDU, but still requiring oxygen support, was shifted to the general ward so that that HDU bed could be offered to a more serious patient. "This patient should have been ideally monitored in the HDU for at least two more days," said a doctor. "But we had no choice."
With the state health department issuing a strict discharge protocol and teams from the department visiting Covid hospitals regularly to decongest beds, hospitals say they have to decrease the patient turnover time. The number of daily discharges has gone up massively since the beginning of May. In about a month, the number of fresh cases has risen about five-fold, whereas the daily discharge has increased 14-fold.
"The job is very difficult in the emergency triage area, where we are flooded with patients," said an emergency consultant of a private hospital. "Even as many patients gasp for breath, we have to choose which of them should be given an HDU or ICU bed when one opens up."
Any which way, it's a tough call. What to do in case of a patient who's still recuperating and can ordinarily be taken care of at home, but for whom there is no caregiver, as his/her entire family is infected? The question has no easy answers. "If it were not for the bed crisis, we could have given a few more days to those patients who are unsure about going home," said Raja Dhar, pulmonologist, CMRI Hospital. "We try to counsel such patients by offering them options like staying at satellite centres if they have no caregiver at home."
[ad_2]
Source link