Flash
West Bengal: How spiralling fuel prices are stunting growth of hilsa | Kolkata News
[ad_1]
KOLKATA: The steep hike in
fuel
prices is taking a toll on
hilsa
health in the Indian waters of the Bay of Bengal as fishermen cast their nets in shallow waters along the coastline instead of venturing deep into the sea for the catch. They are also using finer nets that trap the juvenile hilsa instead of the larger nets that allow the small ones to escape.
Hilsa, a sea fish, moves into rivers to lay eggs before returning to the sea. Shoals of young hilsa, too, make their way back to the sea. It is during this return journey that the younger ones are getting caught in fine nets laid close to the shore line.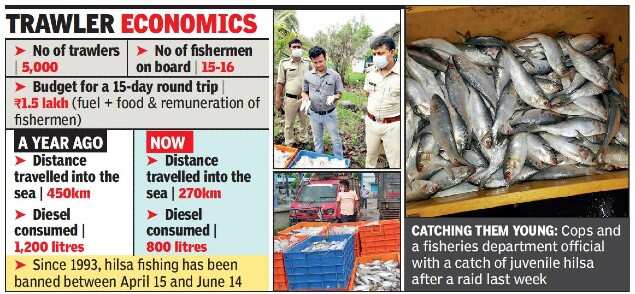 Catching hilsa under 500gm was banned in India, Bangladesh and Myanmar nearly three decades ago to protect the fish population that was depleting fast due to indiscriminate fishing. While Bangladesh has been extremely successful in enforcing the ban and reviving the hilsa population in its waters, India and Myanmar have also had some success.
But with diesel prices increasing by over 30% in the past 12 months, enforcement of the ban is proving to be a challenge. Last week, a raid by the fisheries department netted one tonne of juvenile hilsa from a trawler that had returned to Kakdwip. The fishermen admitted they had fished in shallow waters close to the shore.
A year ago, a round trip for deep-sea fishing by a trawler used to cost Rs 1.5 lakh, including the salaries and food of the 15-16 fishermen on board. "We would spend 1,200 litres of fuel for a 15-day trip and the expense came to around Rs 84,000. Now just 800 litres of fuel costs us Rs 75,000 and since other expenses have also increased, we are fishing along the coastline," said Rabin Das, who owns multiple trawlers.
What this essentially means is that while trawlers used to venture around 450km into the sea earlier. Now, they travel just around 270km.
South 24 Parganas fisheries assistant director (marine) Jayanta Pradhan said nearly all fishermen were now indulging in illegal fishing. "We are trying our best to prevent them from catching juvenile hilsa. We've distributed leaflets and carried out awareness drives to prevent fishing during the hilsa breeding period. But they are using fine bottom nets instead of grill nets that make it difficult for the juvenile fish to wriggle out," he said.
Such rampant fishing of juveniles has already spelt doom for the hilsa population and catch of larger fish has reduced dramatically, said Debasish De, principal scientist and officer-in-charge of Kakdwip Research Centre of Central Institute of Brackish Water Aquaculture.
"There is already a serious drought of hilsa in the Bengal estuary that was once blessed with huge quantities of the fish. Arrival of full grown hilsa from the deep sea for breeding has reduced significantly because of indiscriminate fishing of juvenile hilsa. They are causing tremendous harm to the hilsa ecosystem," said De.
While earlier it was greed that led to some fishermen to flout the norms, hilsa experts admit that rise in diesel prices has forced many more to indulge in illegal fishing.
Bijon Maity, secretary, Kakdwip Fishermen's Association, says they had tried to educate fellow fishermen to desist from fishing in troubled waters but persuading them has become more difficult following the massive rise in fuel prices. He, however, admitted that the illegal practice needed to be curbed irrespective of the pulls and pressures that may face the fishing industry. "The fishermen are destroying their own future. We have to recognise this as an ecological crime and act tough like Bangladesh does. Otherwise, hilsa will soon become extinct," he said.


[ad_2]
Source link